This post has been written by Miss W to congratulate Mackenzie and to show how you can vote for her blog.
Congratulations go to both Mackenzie and Annabel whose blogs have been shortlisted in the best student blog section of the Edublog Awards.
If teachers wish to vote for their blogs before the 18th December, please click on the image below. You may only vote once  from the same IP address. This means vote from lots of different computers outside the school system, as all department computers have the same IP Address. You will need to join list.ly to make your vote count.
If your students wish to vote for them, they will need to click on this link and find either Mackenzie (!ROAR!) or Annabel (Dance to this blog) on the poll and vote that way. The reason students vote differently is that Edublog Awards are on a list.ly format and you can only join if 13 and older (or if your parents create an account for you). So younger students get the chance to vote using the polldaddy instead. They can vote once each day from the same IP address.
Miss Wyatt has also been nominated in the lifetime achievement section – click here if you wish to vote for her.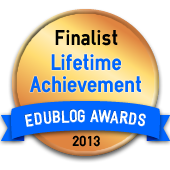 The student blogging challenge which Miss Wyatt runs has also been nominated in the best use of social media section – click here to vote for that.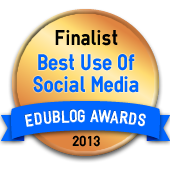 Many thanks to those educationalists around the world who nominated either Mackenzie, Annabel or Miss Wyatt for the Edublog Awards.